Šibenik's St. Michael's Fortress hosted the kick-off conference to the project FORTITUDE – Historic Fortresses Intensifying Cross-Border Tourism Development, entitled Development of New Contents at Historic Fortresses and EU Projects – St. Michael's Fortress as Illustrative Example. The conference was held for circa 50 participants in person and 25 online participants. The conference presented activities and contents of a project whose goal is to develop new content at historic fortresses thus enriching their cultural and tourism offer.
The conference was organized by Public Cultural Institution Fortress of Culture Šibenik (lead partner in procjet) while representatives of four partners participated via video-calls due to current epidemiological circumstances: City of Banja Luka (BIH), Municipality of Herceg Novi (MNE), City of Karlovac (HRV), Municipality of Bar (MNE).
The participants were greeted by the City of Šibenik Deputy Mayor Danijel Mileta, Fortress of Culture director Gorana Barišić Bačelić, together with Đurđa Vrljević Šarić, FORTITUDE project manager.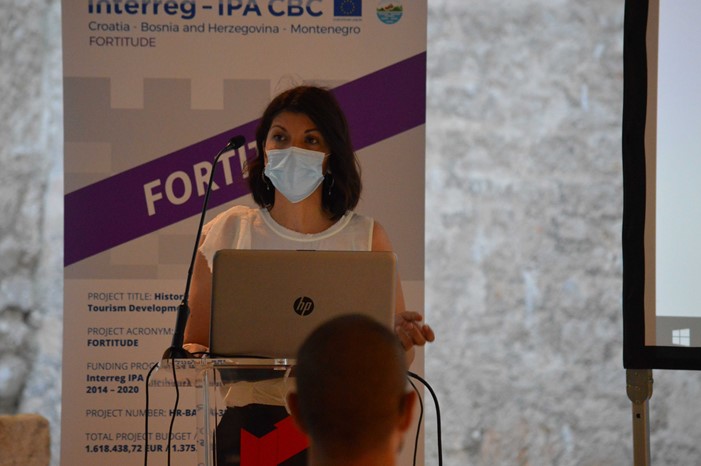 St. Michael's Fortress is a location that has seen the implementation of four European projects since 2012. This fact was emphasized multiple times during conference.
Project FORTITUDE – Historic Fortresses Intensifying Cross-Border Tourism Development – started on March 1st 2020, and will continue till February 28th 2022. Fortress of Culture is the lead partner, together with other partners: the city of Karlovac, Herceg Novi county, Bar county, and city of Banja Luka. The total value of the project comprises 1 618 438.72 euros, from which 85% was co-funded out of the Interreg IPA CBC Croatia – Bosnia and Herzegovina – Montenegro 2014-2020 programme. The main aim of the project is to strengthen and diversify the cultural and tourism offer in cross-border areas, as well as to develop a more quality and sustainable management of cultural goods.
After project end, St. Michael's Fortress will gain a series of novel spatial solutions and contents in its interior: from 2022, visitors will be able to walk through a permanent thematic exhibition about Šibenik's fortification heritage, as well as a multimedia interactive display dedicated to the construction of the open-air stage, Šibenik's musical heritage and different on-stage programmes which branded St. Michael's Fortress as one of the most prestigious stages in Croatia. Apart from the fortress interior, City Point – information centre of Šibenik fortresses – situated in the old city area, will be redesigned. 
A special activity planned within the project is organization of Night of the Fortresses. This future manifestation will have the goal of networking all the fortresses from the cross-border areas, promoting them and displaying to visitors the significance of valuable cultural heritage monuments for the development of cultural tourism in the program areas.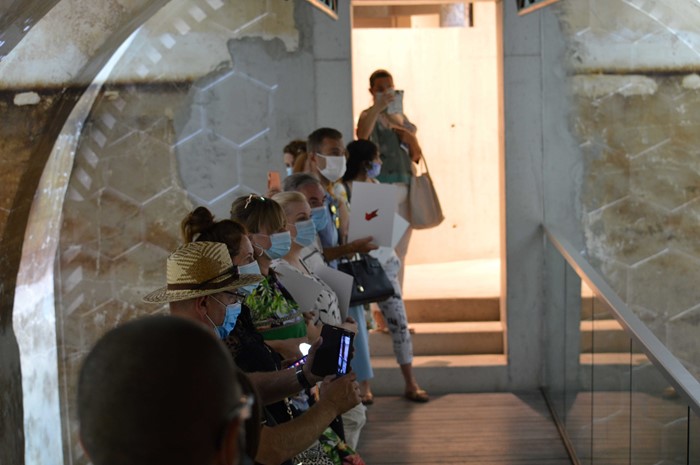 Conference participants obtained an insight into the recently developed digital contents at the fortress, implemented during project Fortress ReInvented: 3D mapping projections inside the fortress' cisterns, with the accompanying audio-guide. As Barišić-Bačelić stated, these projections inside cisterns presented a great new challenge for the lead project partner, Šibenik City Museum, but also the production team. Today they represent a unique project in the whole Croatia.
Source: https://www.tvrdjava-kulture.hr/en/home/